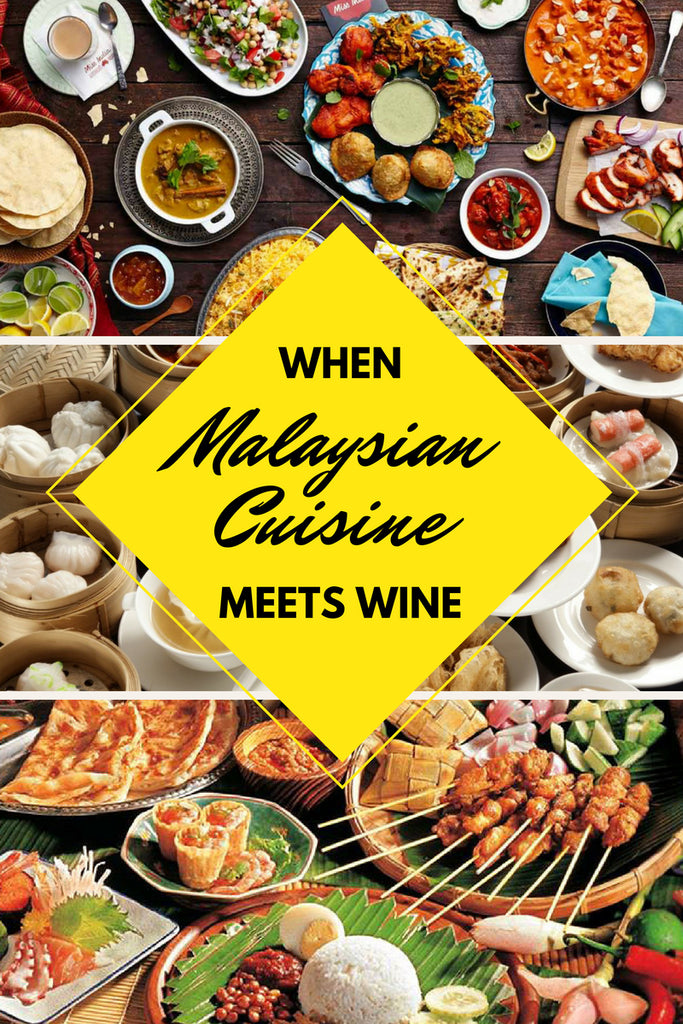 Are you sure?  Can meh? Really? Cannot la!
Those were some of the most common answers we received when we shared about our experience in pairing wine with Malaysian Food.
Yes, we comprehend your dilemma, we know it is hard enough to be able to choose a bottle of wine that is to your own liking, moreover this is to pair with the diverse flavors of Malaysian Food but we do love a good challenge! After all, Malaysia Boleh ma!
1. Nasi Lemak (Regale Wine Lounge, Desa Sri Hartamas)
One of the best nasi lemak that I ever had.
Apart from the coconut rice, crunchy anchovies, nuts, hard-boiled egg and cucumber, we were spoilt with side dishes of fried chicken, sotong (dried squid) and even sambal petai (bitter beans) and to top it all, the signature sambal was absolutely scrumptious! 
Recommended wines
German Riesling kabinett-If you like to have a balance taste between the food and wine
French Bordeaux Blanc ( made from a mixture of French Sauvignon Blanc & Semillon) -If you are not a big fan of sweet wine
French Beaujolais ( made from Gamay grape)-If you are feeling adventurous
Wines to avoid
Big, bold and full bodied wines like Shiraz/Syrah and Cabernet Sauvignon as these wines tends to fight with the flavour of the food and would likely makes the nasi lemak even hotter!
2.Dim Sum ( Grand Kingdom, Tropicana)
One of the most frequent wine pairing and also the most "stare at" (imagine early morning everyone having dim sum with tea and you show up with a bottle of wine….you get what I mean right?)
Dim sum dishes paired include Pork Dumpling (Siu Mai), Prawn Dumplings (Har Gau), Fish Balls, Porridge, Glutinous Rice (Loh Mai Kai), BBQ Meat Bun (Char Siu Pau), Rice Rolls (Cheung Fun) and Deep Fried Yam Puff (Wu Kok).
Recommended wines
Riesling (German)-Perfect to match with Pork and Prawn Dumplings
Sauvignon Blanc (New Zealand)-If you are not a big fan of sweet wine, this would go great with fish balls, porridge and rice rolls
Pinot Noir (New Zealand)-If you absolutely want a red wine and this goes best with the BBQ Meat Bun and Yam Puff and Glutinous Rice
Wines to avoid
Full Bodied wines for example Barolo, Chianti, Pinotage, Bordeaux that would cover the delicate and sweet taste of the dim sum.
3. Pai Tee & Lobak (Precious Old China, KL)
A very common appetizer for Baba & Nyonya dishes although I think Pai Tee is a more popular choice as it is more commonly found. Pai Tee served in Precious Old China is the deconstruct version hence you are in control of how much or how little each stuffing to combine while the lobak is being served in crispy bean curd fried to perfection.
Recommended wines
Pinot Grigio (Italy)-The saltiness of the wine is balance with the food
Sauvignon Blanc (Chile)-The acidity of the wine can match back the sauce of both dishes
Sparkling wine/champagne -It gives the food a refreshing and appetizing taste
If you absolutely want a red wine-Vino Tinto (Spain), go for the one that have a hint of sweetness
Wines to avoid
Shiraz and Pinotage as these wines tends to fight with the flavour of the food and would likely makes the dishes spicier!
 4. Dumpling (Bak Chang) (Restoran O&S, Paramount)
Glutinous rice wrapped in bamboo leave with the fillings of pork, dried shrimps, mushroom and salted eggs are the commonly found, although recent years had seen the emergence of dumplings with luxurious ingredients such as dried scallop and abalone and also variation such as Nyonya Dumpling with fried or non-fried glutinous rice.
Recommended wines
Prosecco, Italian Sparkling wine- Able to avoid cloying of glutinous rice
French Cote du Rhone ( made from a mixture of Grenache, Syrah and Mourvedre ) To match the pork meat and fillings
French Provence Rosé –does not over power the filling but rose has enough body to match back the glutinous rice
Wines to avoid
Sweet wines like Moscato or Lambrusco, as its best to be paired with sweet desserts rather than with savory food like dumplings
5.Satay (Restoran Satay Kajang Hj. Samuri, Damansara Uptown)
I would say the ultimate satay for me is definitely Kajang Satay, as it is one of my go to childhood food and the highlight of the satay is the signature sweet, hot and spicy peanut sauce. The type of meat that is most popular is definitely chicken, follow by beef and mutton. Other meat choices include fish and rabbit.
Recommended wines
Chenin Blanc (South Africa)-If you absolutely want white wine and like a hint of sweetness
Malbec (Argentina)-most suitable with mutton and beef satay
Rosé (Spain)–great when all types of satay especially when everyone preference are as diverse from fish to beef
Wines to avoid
Pinot Noir as the wines would be too light and would be overpowered by the spicy peanut sauce and would not pair well with the grilled or bbq characteristics of satay
6. Roast Pork (Regale Wine Lounge, Desa Sri Hartamas)
Somewhere along the line, roast pork and red wine has being paired often together and oh boy, it has been inseparable ever since !
Recommended wines
Bergerac (France) -The tannin of wine pairs well with the crunchy pork skin and cuts through the fats
Shiraz (Australia)-Nothing beats matching the smokiness of the roast pork with the spiciness of Shiraz
Cava, Prossecco or a Cremant-especially if you are having the roast pork as an appetizer or snack, the saltiness of the roast pork will pair well with the acidity of the sparkling wine
Wines to avoid
Somehow or rather this does not come as a surprise as this clearly is a red wine pro food hence the answer is white wine and dessert wine.
7. Curry Puff (IKEA, IPC Damansara)
A well-known snack be it small or gigantic in size, the fillings can range from sardine, chicken, potato as well as variation such as rendang but as a general swiping rule, we paired the wine with curry puff stuffed with curry chicken, potato and egg.
Recommended wines
Bordeaux Blanc (A mixture of Sauvignon Blanc and Semillon) –I like how the acidity of the sauvignon blanc can help in reducing the hot sensation of the curry puff
Merlot-Some curry puff has a hint of sweetness and a Merlot that has a slightly sweet finish would go well with the sweetness of the potatoes
Bourgogne Blanc –surprisingly it can match, as chardonnay is able to match back the richness of the curry puff.
Sparkling wine- good to pair when curry puff is the appetizer
Wines to avoid
Big, bold and oaky full bodied red, unless you want to feel the heat of the curry, pair it with a Barossa Shiraz.
 8. Durian (SS2, Petaling Jaya)
One of the most controversial food to pair with wine due to the taboo of never to have alcohol with durian. However, we found a few brave souls and managed to get our hands on XO, D24, Chok Kiok (green Bamboo) and Musang King
Recommended wines
Chardonnay-good to match the creaminess of the durian especially with Chablis
Moscato-deducing from the facts that the mixing of cava and ice wine seems like a perfect match with durian
Wines to avoid
Any Sparkling wines especially Cava, it is however a good palate cleanser for in between the durians and ice wines seems to be too cloying when put together with durian and of course red wine, just don't go with the durian
9. Seremban Siu Pau (Kee Mei-Seremban)
This Seremban delicacies has been around for ages and the taste is both sweet and savory, the usual go to siew pau is the one with the pork filling. To me it's a pastries and at the same time a pau.
Recommended wines
Any medium sweet red wine-good to match the sweetness of the pau and able to match with the well-seasoned minced pork meat
Chinon-the tartness and medium alcohol level red wine from Loire Valley with a smooth tannin does not overpower the pastries dough neither the filling
Wines to avoid
White wine with high acidity, as the effort of pairing them would be like mixing water with oil.
10. Signature sauce crab (Bamboo Park Restaurant, Petaling Jaya)
I love devouring crabs and this signature sauce was a mixture of butter, salted egg yolk and coconut oil with hint of curry leaves and red chillis. The resulting sauce was tangy, creamy and definitely appetizing.
Recommended wines
Alsace Gewürztraminer- the lychee and slight hint of spiciness was perfect to cut the richness of the sauce without overpowering the freshness of the crab
Alsace Pinot Gris –Dry and medium bodied, it can go well with the dish or to have it on its own
New Zealand Sauvignon Blanc-The kiwi aroma and acidity of the wine would enable you to eat more than usual as it takes away the meatiness of the crab meat
French Provence Rosé- This is for those who absolutely crave for a somewhat red wine, just avoid the sweet ones and go for the dry ones.
Wines to avoid
Medium to Full Bodied Red wine, a light red such as Gamay and Pinot Noir might still be possible especially if they are from the cool climate region.
Now that we got you salivating at the food and know the possibility of wine with Malaysian Cuisine, I bet the next thing on your mind would be
What about Bak Kut Teh, Hokkien Mee, Wanton Mee, Nasi kerabu, Fish Head Curry or even Char Keow Teow? What wines to pair with?
If you like this piece on Malaysian Food and Wine pairing, please to like our page and if there is any other Malaysian Food that you would like us to pair it with, do feel free to leave us a comment.
Happy Merdeka!